DermEffects: Dr. Wei Jing Loo
1560 Hyde Park Road
London, ON N6H 5L5
Medical Inquiries: (519) 472-2929
Cosmetic Inquiries: (519) 472-8686
Fax: (519) 472-8484
Monday–Friday: 7 a.m.–3 p.m.

BELKYRA®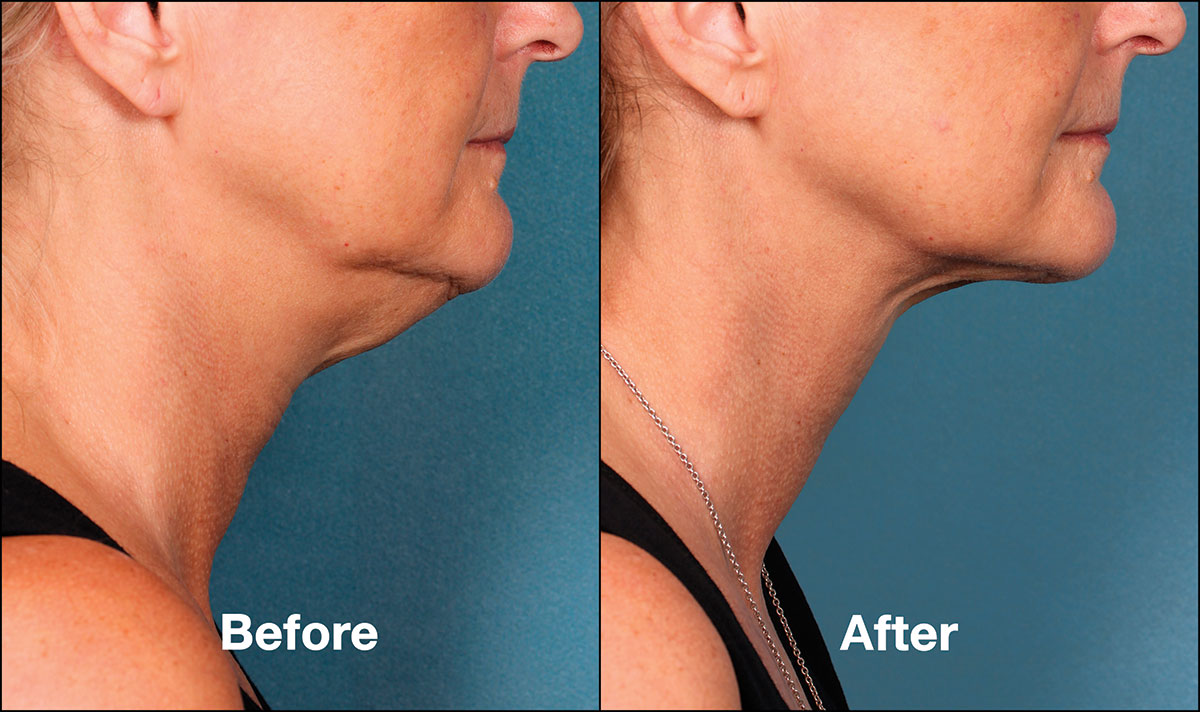 Photo courtesy of Allergan
*Individual results may vary
Men and women who want to get rid of their double chins now have an innovative, nonsurgical fat reduction treatment to improve this common concern. Approved by Health Canada, BELKYRA (KYBELLA) is an injectable treatment available at our London, Ontario, clinic that's proven through years of clinical studies to reduce submental fat—the fat that causes a double chin. People come to DermEffects from cities like Sarnia, Chatham-Kent, Waterloo, and Cambridge for these "double-chin injections" because they really work.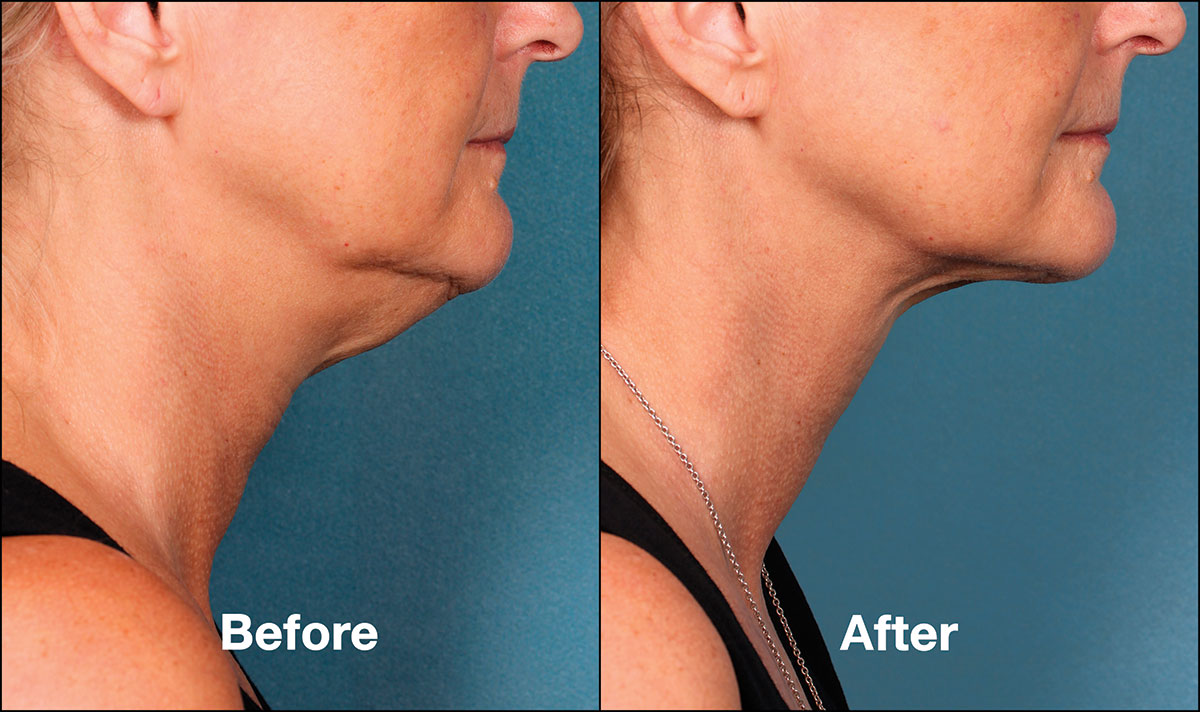 Photo courtesy of Allergan
*Individual results may vary
How BELKYRA Works
BELKYRA injections contain a naturally occurring molecule called deoxycholic acid, which aids in digestion by breaking down dietary fat. When it is injected into the fat beneath the chin, BELKYRA destroys fat cells. As the cells break down, the body gradually eliminates them through its normal metabolic process. Once destroyed, these fat cells are gone for good.
Why Choose DermEffects for BELKYRA
Dr. Loo is a Royal College-certified dermatologist whose experience performing cosmetic injectable procedures helps ensure excellent results.
Dr. Wei Jing Loo customizes BELKYRA treatments after a physical exam and discussion of your aesthetic goals. Dr. Loo is a Royal College-certified dermatologist whose experience performing cosmetic injectable procedures helps ensure excellent results. A BELKYRA treatment session involves making several precise injections in a grid-like pattern that is marked at the beginning of the procedure.
A topical anesthetic applied before the injections helps ensure you experience minimal discomfort during the treatment. Most patients experience visible improvement in the contour of their chins with 2 to 4 treatment sessions spaced at least a month apart. Swelling is the most common side effect, and it can be significant in some cases.
How Much Do BELKYRA Treatments Cost?
Because BELKYRA treatments are customized, the price varies from patient to patient. The total cost depends primarily on 2 factors: the number of injections made per treatment session and the total number of sessions required to produce the desired results. We provide a price quote after your consultation, although the treatment plan may need to be adjusted as the results develop.
An Elite Skincare Specialist
Dr. Loo is an experienced, board-certified dermatologist who established DermEffects with a vision of providing excellent cosmetic and medical skin care.
BELKYRA Frequently Asked Questions
Who is a good candidate for BELKYRA injections?
Anyone who is self-conscious about the fat below his or her chin may benefit from BELKYRA. Excess fat in this area may be a genetic trait, or it may be related to aging or weight gain. Men and women in their 20s and 30s may be excellent candidates for this treatment because their skin retains most of its elasticity, meaning it will "shrink to fit" the new contours once the fat cells are destroyed. BELKYRA injections can also be a good approach for patients in their 40s, 50s, and 60s — especially when combined with radiofrequency microneedling or Restylane® Skinboosters to tighten and smooth the neck's crepey skin.
Is a BELKYRA treatment as quick as other injectable treatments such as BOTOX?
Yes. Depending on the number of injections needed, a typical treatment session may last between 20 and 30 minutes.
Do I need to take time off work?
BELKYRA injections can produce some significant swelling, particularly following the initial treatment. You may also experience some redness and soreness, but those side effects tend to resolve fairly quickly. Some patients may take off a few days from work if they are self-conscious about the swelling. Others may wear turtleneck tops or other clothes that conceal the neck.
Dr. Loo performs this quick and effective treatment at our office in London, Ontario. Learn more about BELKYRA by requesting a consultation using the online form, or call our office at (519) 472-2929 .